7:00 am Pacific
(Exclusive to BMR Subscribers – Not for Distribution or Posting on any Board!)
After touching an overnight low of $1,587, Gold reversed sharply higher and is currently up $14 an ounce at $1,627.  Silver dipped as low as $14.13 overnight but is now up 16 cents at $14.69;
The Venture's rally off historic lows continues with the Index up another 9 points at 405;
The Dow, which posted its first back-to-back gains yesterday since early February (a combined 2,609 points), has climbed another 652 points as of 7:00 am Pacific;
Streets in India normally bustling with people and traffic stayed empty today as the country of 1.3 billion people endured the first day of a national lockdown brought on by the Wuhan COVID-19 virus.  Indian Prime Minister Narendra Modi announced the measure yesterday, saying that people would have to remain in their homes for the next 21 days, with only essential services remaining open
Nevada's Democratic governor has signed an emergency order barring the use of anti-malaria drugs (chloroquine and hydroxychloroquine) for someone who has the virus.  The move comes a day after a Phoenix-area man and his wife were in critical condition from taking an additive used to clean fish tanks known as chloroquine phosphate, similar to the drug used to treat malaria.
U.S. Jobless Claims Top 3 Million, Twice The Estimate 
A record 3.28 million U.S. workers applied for unemployment benefits last week as the Wuhan COVID-19 virus hit the economy, immediately ending a 10-year  job expansion.
Initial jobless claims increased by a staggering 3 million to 3.28 million – more than twice the consensus estimate – in the week ended March 21.  The weekly level far surpassed the previous all-time high of 695,000 set in October 1982.
The record high level of claims came during a week when many U.S. businesses announced layoffs and several state and local authorities ordered non-essential businesses to close in response to the coronavirus pandemic.
The great American job machine just ground to a halt, that quickly.
"We're Not Going To Run Out Of Ammunition"
Federal Reserve Chairman Jerome Powell pledged this morning that the central bank will keep using the tools it has to fight the economic collapse brought on by the pandemic.  In an interview with NBC's "TODAY", the central bank chief said the recent initiatives the Fed has taken will help provide capital to businesses that need it and will be especially helpful once the virus is brought under control.  "When it comes to this lending, we're not going to run out of ammunition, that doesn't happen," he said.  "We still have policy room in other dimensions to support the economy."
Over the past 2 weeks, the Fed has taken its benchmark rate to near-zero and initiated a slew of measures aimed at keeping credit flowing.  The Fed also has joined the Treasury Department in programs that will provide funding to businesses of all sizes, and has started buying corporate bonds and other assets where it has not been involved previously in order to free up frozen credit markets.
Powell said the Fed is aiming at "places where credit is not being offered where it should be offered.  We can step in and make that happen. That's a very positive thing and appropriate thing in this highly unusual situation we're in," he said.
In addition to the other steps, the Fed has relaunched its asset-purchasing program, vowing to buy as many bonds as needed to keep markets and the economy functioning properly.
Silver Sizzles Again
Retail interest in Silver has picked up dramatically across the globe since last week.  In one measure of that, the U.S. Mint has reported Silver coin sales of 4.83 million ounces so far in March, which is nearly 4 x more than last year's monthly average of 1.24 million ounces.
Technically, Silver formed what clearly appears to be an important bottom during last week's panic when the metal plunged as low as $11.72.  The total move off the 2008 low around $8 was 6-fold, further supporting John's long-term Silver chart from as far back as a year ago that showed how Silver was poised to reach measured Fib. resistance in the $70's during the early 2020's.
The "WHY" is now very apparent.
Below is John's latest short-term chart which shows how extreme oversold conditions gripped the market last week with a breakout above the sharp RSI(14) downtrend line in recent days.  This is a dramatic reversal.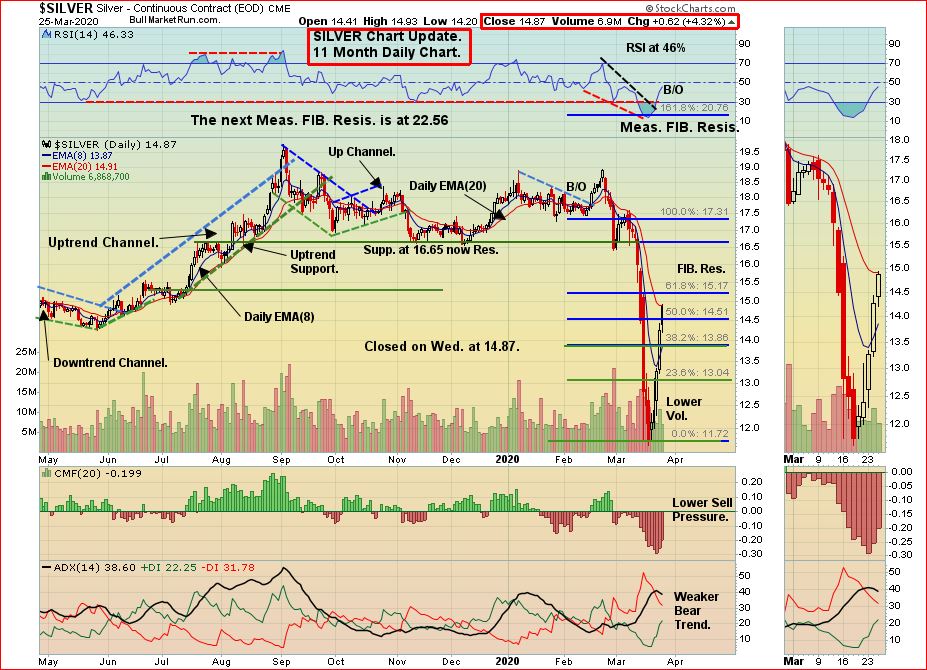 Canada Cobalt (CCW, TSX-V)
If Silver has indeed started a move that's going to take it to new record highs, Canada Cobalt (CCW, TSX-V) – soon to be renamed Canada Silver Cobalt – is also going to hit record highs just based on the new discovery at Castle East which has the potential to match or exceed the ~70 million ounces historically mined within 2 km to the west along the shallow western margin of the Nipissing diabase.
This is the best Silver play in Canada.  Don't be surprised if CCW comes out of the "Corona Crash" with a MASSIVE move to the upside.  In fact, it's starting now as the stock confirmed a technical reversal yesterday and climbed as high as 39 cents.  News is expected soon.
Key support has held at the rising 1,000 day SMA in addition to the mid-20's (as we saw last year).  Unlike most stocks, CCW's 200-day SMA (currently 41.5 cents) has not gone into decline.
A move back above the 200-day is imminent, especially as the Venture continues to gain traction.
Grade Is King
The best Silver discovery in Canada at the moment belongs to CCW.  The 2008 financial crisis marked the beginning of a spectacular 6-fold move in Silver from just above $8 to nearly $50 by early 2011.  "March Madness", featuring an initial head fake lower in Silver just like in 2008, has laid the foundation for a similar run in the metal to new all-time highs over the next couple of years.  Silver stocks will go insane.
The strategy of "going deep" in the Abitibi has paid off big-time for CCW and the likes of Wallbridge (WM, TSX) and Amex (AMX, TSX).  All 3 have out-performed their peers in recent months and will continue to do so.
What's particularly attractive about CCW at the moment is that while investors are seeing a lot of promise at Castle East, including some world class Silver grades, the extent of this new deposit (or series of deposits) is likely to be a big upside surprise.  Historically, 95% of the Silver produced in the Gowganda Camp (60 to 70 million ounces) has come from the robust Miller Lake Intrusion – and almost all of that from the shallow western margin of the diabase where outcrop gave the "oldtimers" an obvious clue where high-grade Silver could be found.
They virtually ignored the area to the east where the diabase dips, forming a "basin", and virtually no surface clues are present.
Modern geophysics has changed everything – that's how the CCW discovery was originally made.
What if the "oldtimers" and Agnico Eagle were mining just along the edge of something much, much bigger – and perhaps even better in grade?  Wouldn't be the first time we've seen that in this business!
CCW VP Exploration and former Kirkland Lake (KL, TSX; KL, NYSE) resource geologist Matt Halliday, in tandem with Doug Robinson, has "cracked the code" at Castle East – that's our conclusion based on a growing amount of evidence including news March 2 of a Gold opportunity at Castle East as well.
Castle East, also now confirmed to host Gold-rich quartz veins in an Archean package above the diabase, is impregnated with much more productive differentiated diabase (gabbro) than previously recognized immediately adjacent to ~70 million ounces of historical production.
Furthermore, the extremely rich ore shoot (>1,000 oz/ton) that CCW has already identified can be relatively quickly accessed through an exploration ramp that also opens up the broader Castle East area to highly efficient drilling strategies once the vein structures can be seen in 3D.  It doesn't take many tons at extraordinary grades to drive game-changing revenue for a junior like Canada Cobalt.  Grade, as always, is King.
The PolyMet processing facility acquired by CCW just a 75-minute drive from the Castle Property is "icing on the cake" as it makes this new discovery more valuable than ever.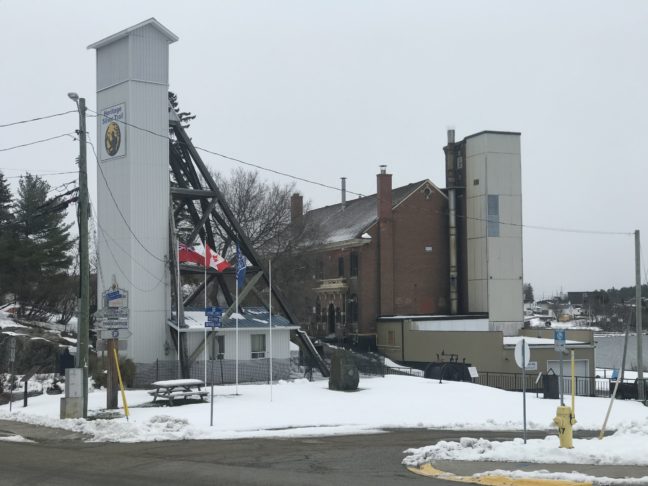 Note:  John, Jon and Daniel hold share positions in CCW.  Jon also holds share positions in AMX and WM.